Age Math Funny Card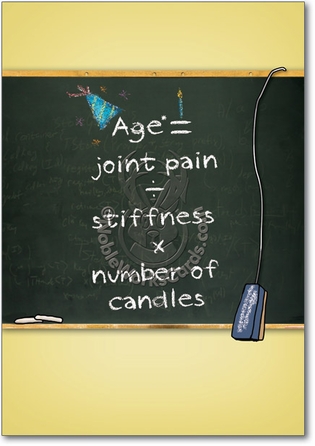 Inside Reads
Another birthday, no matter how you add it up...Happy Birthday. *e=Rx2
Item #:

0911

Cover Reads:
Age = joint pain / stiffness x number of candles
Inside Reads:
Another birthday, no matter how you add it up...Happy Birthday. *e=Rx2
Availability:
In Stock
If your friend's birthday is quickly approaching, then you best get this math birthday card for him or her by NobleWorks.
Name:
Age Math Card
Occasion:
Birthday
Line:
Talk Bubbles
Product:
Humor greeting card
LOL Factor:
Free for all freakish
Category:
Funny Birthday Cards
Paper:
Pulp used in the making of this paper came from mixed sources of well managed forests, controlled sources and post-consumer recycled fiber. Printed in the USA.
Introduced:
11/15/2010
UPC:

745469009118
0912 Inside Text: Have a Bitchin' Birthday!

0914 Inside Text: I picked this card asspecially for you! Happy Birthday!

0915 Inside Text: Happy Birthday!

0916 Inside Text: Peel yourself a happy birthday!

0918 Inside Text: ...your boogers look like little birthday cakes! Happy Birthday!

0920 Inside Text: Smile (if you can); it's your birthday!

0921 Inside Text: Have a happy birthday or else.

0925 Inside Text: ...high blood pressure ..high blood sugar ...high cholesterol. Happy Birthday to someone who is living the high life!

0926 Inside Text: iWish you a happy birthday.

0927 Inside Text: Happy F*%#@ing Birthday.

0929 Inside Text: Have a glamorous birthday!

0931 Inside Text: Fuck this getting older bullshit, too. Happy Birthday.
Recently Viewed