Christmas Blow Job Humorous Christmas Card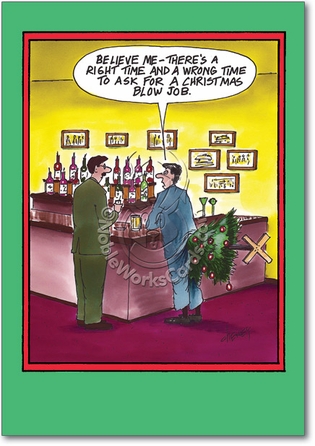 Inside Reads
Have a happy holiday. No ifs, ands, or butts about it.
Item #:

5880

Cover Reads:
Believe me-- there's a right time and a wrong time to ask for a Christmas blow job.
Inside Reads:
Have a happy holiday. No ifs, ands, or butts about it.
Availability:
In Stock
As part of our never-ending project to spread good will among men, NobleWorksCards.com is here with important tips on making the best of the Christmas season, such as knowing when (or when not) to ask for that Christmas blow job on your wish list. There's no need to thank us. Just knowing that maybe one or two people have been spared the Christmas morning pain of having a spruce shoved where the sun doesn't shine is enough thanks for us.
Name:
Christmas Blow Job Card
Occasion:
Christmas
Line:
Cartoons
Product:
Hilarious Printed Cards
Greeting Card Style:
Jokes Art
Category:
Funny Christmas Cards
Credit:
Cartoon by Tom Cheney
Product:
Printed on FSC certified paper.
Introduced:
3/15/2012
UPC:

745469058802
5881 Inside Text: Have A Kick-Ass Christmas.

5882 Inside Text: Wishing You A Politically Correct Season Christmas.

5883 Inside Text: Hope You Get Lots Of Great Shit For Christmas. Merry Christmas

5884 Inside Text: Hope Your Christmas Is A Hit.

5885 Inside Text: Merry Christmas And All That Shit.

5889 Inside Text: Get charged up and have a Merry Christmas!

5890 Inside Text: This card's fur you. Merry Christmas.

5891 Inside Text: It's beginning to look a lot like Christmas. Merry Christmas.

5892 Inside Text: Hope everything comes up roses for you this season.

5893 Inside Text: Hope your Christmas isn't a pain in the ass.

5894 Inside Text: Merry Christmas, deer.

5895 Inside Text: Hope this Christmas suits you just fine.
Recently Viewed