Bubble Wrap Dirty Greeting Card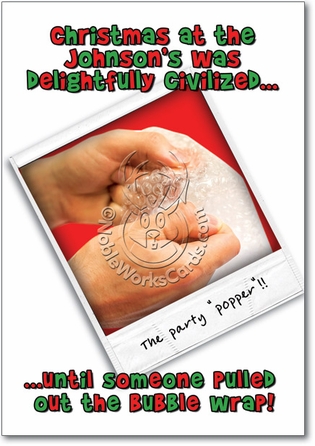 Inside Reads
I'm so excited to wish you a Merry Christmas I could burst!
Item #:

5928

Cover Reads:

Christmas at the Johnson's was delightfully civilizedÉuntil someone pulled out the bubble wrap!

Inside Reads:
I'm so excited to wish you a Merry Christmas I could burst!
Availability:
In Stock
Get this Christmas card for friends who like bubble wrapÉ which is basically everyone.
Name:

Bubble Wrap Card

Occasion:
Merry Christmas
Line:
Talk Bubbles
Product:
Funny Printed Cards Pack
Greeting Card Style:
Naughty Nostalgia Images
Category:
Humor Jokes Christmas Cards
Credit:
Card by Noble Archives
Product:
Contains 10% post-consumer recycled fiber.
Introduced:
3/15/2012
UPC:

745469059281
5929 Inside Text: Merry Christmas from me, myself, and I.

5930 Inside Text: Happy New Year

5931 Inside Text: Happy Bird-day.

5932 Inside Text: May your season be as happy as ours.

5933 Inside Text: This card's for you. Merry Christmas.

5934 Inside Text: Go nuts...it's Christmas!

5935 Inside Text: Oy, to de vorld and goot vill toward menschen.

5937 Inside Text: You'd find it really sweet.

5938 Inside Text: Warm wishes for a relaxing holiday. Oh snap...where is frosty?

5939 Inside Text: Another holiday no matter how you spin it. Happy Holidays.

5940 Inside Text: You'd better not pout! Merry Christmas.

5941 Inside Text: Wishing you a really great Christmas.
Recently Viewed