Humor Weird Relative Christmas Card Timothy Whyatt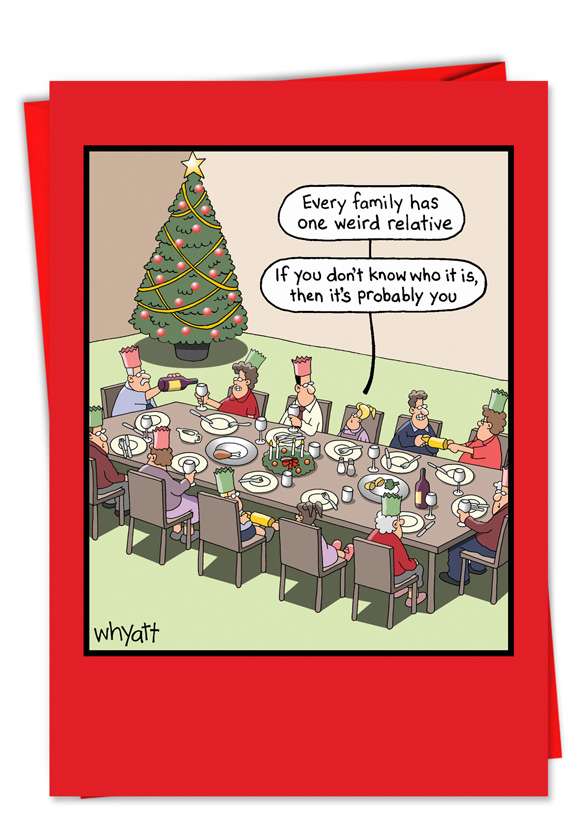 Inside Reads:
Have A Weird And Wonderful Christmas.
Item #:

1703

Cover Reads:
Every family has one weird relative. If you don't know who it is, then it's probably you.
Inside Reads:
Have A Weird And Wonderful Christmas.
Availability:
In Stock
Are you the weird one in your family? If you can't spot anyone else weirder than you, it's safe to assume you're the odd-ball in the bunch! Weird or not, everyone enjoys a good laugh and that's what makes funny greeting cards like this perfect come time for the Christmas holiday season. All our cards are printed on the finest quality recycled paper, right here in the United States!
Name:
Weird Relative Christmas Greeting Card
Occasion:
Christmas
Line:
Cartoons
Product:
Paper Greeting Card Pack
Greeting Card Style:
Completely Hilarious
Artist:
Tim Whyatt
Credit:
Cartoon by Tim Whyatt
Paper Stock:
Card paper from mixed sources.
Introduced:
March 15, 2012
UPC:

745469017038
Recently Viewed