This Room Looks Divine Funny Mother's Day Greeting Card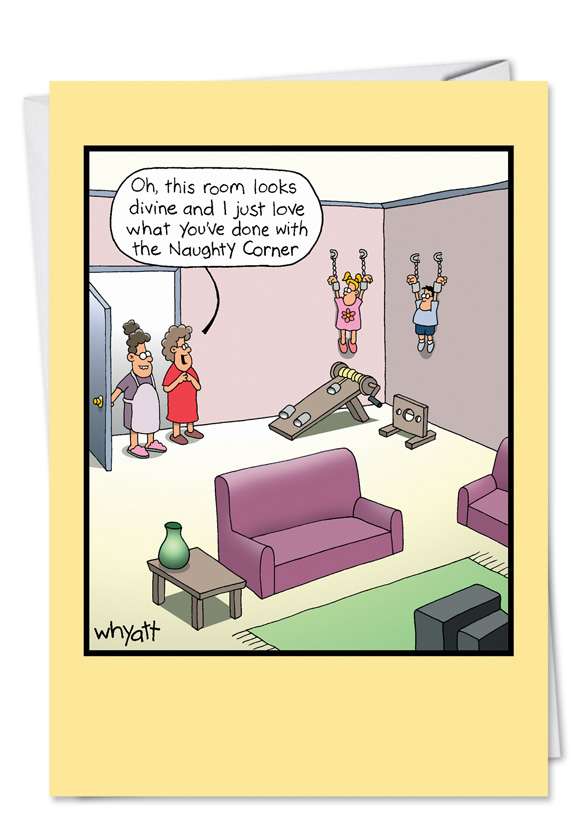 Inside Reads:
Hope your Mother's Day is divine!
Item #:

0083

Cover Reads:
Oh, this room looks divine and I just love what you've done with the naughty corner.
Inside Reads:
Hope your Mother's Day is divine!
Availability:
In Stock
We're not saying Mom is looking to add a stock, a rack and other medieval torture devices to the Naughty Corner. We're just saying to watch it. Illustrated by famed cartoonist Tim Whyatt, this hilarious Mother's Day card hopefully won't give Mom any interior decorating ideas, but the card is sure to make her special day a little more fun. We only suggest being on extra good behavior, at least until the novelty of an enhanced Naught Corner wears off.
Name:
Room Looks Divine Card
Occasion:
Mother's Day
Line:
Cartoons
Product:
Funny paper cards
Greeting Card Style:
Anarchy ensuing
Artist:
Tim Whyatt
Paper Stock:
Printed on FSC certified paper. Made in the USA.
Introduced:
September 15, 2011
UPC:

745469000832
Recently Viewed